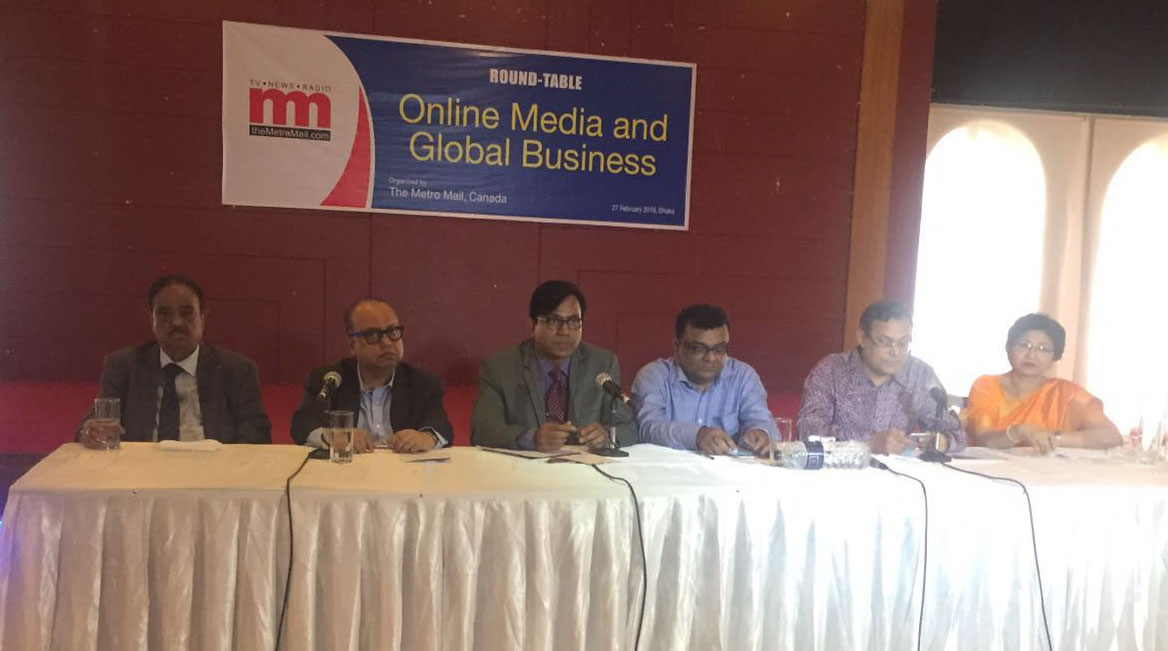 Speakers Stress proactive role of online media in business promotion
7 January 2012 News
---
Dhaka, 27 February 2016: Speakers at a round table discussion on online media and global business stressed a need for the promotion of online media marketing and termed it an effective way to promote business in the global market. Metro Mail Canada, a global media and marketing company, organized the round table at the Gulshan Club in Dhaka to get the perspective of various stakeholders on how the online media and business can complement each other in a global environment. Metro Mail will soon launch its news portal and IP Radio from Canada to serve the global Bangladeshi community.
Speakers said that many effective and large companies are using the strength of online media including popular social media for marketing their products and services in highly interactive and competitive global markets. They said that it is increasingly becoming an essential component of a company's marketing and customer-based development platform. There is a growing importance of using online media because of its cost-effectiveness, ability to reach targeted audiences quickly and broaden customer market at global level, they added.
Emamul Haque, Director and CEO, Metro Mail Inc. greeted the participants and panelists with a welcome note, where he addressed the undeniable importance of online media and the many possibilities it provides, particularly in the world of business. He stressed on the need for businesses and any form of media to have a strong online presence in order to be able to make its mark on the global platform.
Eminent journalist, Syed Istiaque Reza, Head of News, Ekattor TV, presented the keynote paper. He started by stressing how "business itself is global." He went on to elaborate: "When business is all about transactions, one of the major components is communication. Keeping this in mind it is important to stay in touch with customers, business partners through whatever devices are at our disposal. Although social media and other online systems were not originally designed for business use, one cannot deny the vast number of people using these platforms for sales, marketing communication and other forms of exposure. We now consider advertisements on social media sites as an option, but there are still many more ways and strategies we can think of in which business communication can evolve. Belonging to a social media site is like having one's own personal broadcast network. With information technology taking over the marketplace, more and more people are turning to online and social media to communicate."
He ended his speech with: "Through online and social media, the world is a market, and not segmented territory."
Masud Rahman, President, Canada Bangladesh Chamber of Commerce and Industries, attended the event as the guest of honour and he began with a note thanks to the organizers: "We appreciate the initiative taken by the Metro Mail Inc. in organizing such an important and timely round table. Digital media and online tools remain a largely untapped resource for companies. There are however many challenges to face and problems to deal with. Many marketers continue to struggle with developing technology to actions that influence consumer behavior. The existing digital matrix cannot quantify the financial impact for such tools or channels for the business. The fact remains that there is no single solution."
He ended on an important note, stressing the need for ethics in business. "The race is far from over. With social hybrid organisations making their foray in the business world, combining profit business ethos, with ever increasing urge towards social entrepreneurship, online media and global business is going to be multiplied manifolds, provided it is steered ethically, professionally as well as in a socially desirable way."
The next speaker was eminent journalist and media personality and guest of honour, Monjurul Ahsan Bulbul, Senior Vice President, National Press Club, who spoke about what a media organisation needs to do in order to survive in today's competitive market, pointing out that it is exceedingly necessary to evolve according to the times we are living in. He stressed this in three simple points – the need to change content, the need to change presentation style and the need to cope with and learn new relevant technology. He said, "Media is anything but static and we fast need to change or develop for the better accordingly."
Mizanur Rahman Shally, the Editor of socio-economic quarterly ASEAN AFFAIRS who mentioned the need to change for the better and that social media and other online platforms have revolutionised the concept of business.
Emamul Haque, Director and CEO of Metro Mail Canada moderated the roundtable. He said, "We would like to maximize synergy between development and global market by offering the best content, distribution, support and overall value in all forms of media including our news portal. We would facilitate the process, which would help Bangladeshi business entrepreneurs to explore opportunities in a global environment." He also informed the audience that in Canada Metro Mail will officially launch its IP TV in 2017.
Nazneen Ferdousi, Advisor and Bangladesh Focal for the Metro Mail Canada closed the session by reflecting on the panelists' calls to action and touching on the culture of using and misusing online media, observing that one should be careful in choosing the right kind of message and media for the promotion of their business. She concluded by stating that the Metro Mail is working to become the voice of the Bangladeshi community living abroad and promotes positive Bangladesh in the global market.
Over 50 participants including eminent journalists, business leaders, academia and civil society leaders attended the event and shared their insights.
---